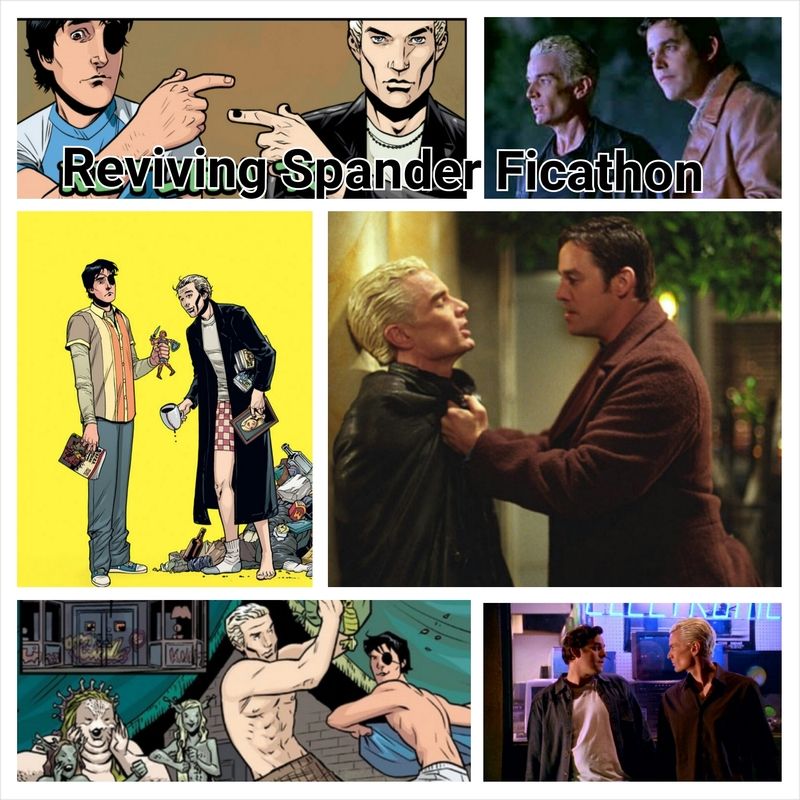 Finally, the Reviving Spander Ficathon is officially starting!!!
MASTERLIST
The Rules:


Fics should be about Xander and Spike in a romantic relationship. It can be pre-Slash. It can be an established relationship. They don't even have to end up together in the end. But as long as there are romantic or lusty feelings between them at some point in the fic, it is accepted. So, that means Friendship Fics are not allowed, unless it starts with friendship and ends with romance or begins with romance and ends with friendship.


Fics should be 1000 words long. No maximum.


To sign up, just comment to this post and say, "I'm signing up!"

If you do know what you're going to write,

give a short summary or just a few words. Or don't. That's just me being nosey.


Fics may be posted anytime between now and Monday, September 7. Once the fic is posted, drop a comment here so that your fic can be added to the masterlist.


You have two weeks to post your fic or at least Part 1 of your fic. Notify me of new parts or chapters of your fic by posting the link here. I'll make a tag called, "Reviving Spander Ficathon Updates" for chapter-ed fics. So, that means you don't have to finish your fic by Sep 7th, Part 1 is enough and you can take your time finishing your fic.


If you want to particiapte but can't post your fic or even the first part of it by the 7th of September - it's okay. Just drop the link here and I'll add it to the masterlist and mention it in the Reviving Spander Ficathon Updates tag.


After the 7th of September, I'll put together the masterlist.


If you'd like to snag a prompt, go here. Prompts are strictly optional, and you do NOT have to claim or write to a prompt in order to participate in the ficathon. However, they're a great place to go looking for ideas.


PS: If you still want to participate, check the prompts for the ficathon to inspire you or to choose from. Thanks to xanderslasher , we have all the prompts written in a clear list for you to choose from: Reviving Spander Ficathon PROMPTS Masterlist.


I want to apologize to
snickfic
for copying some of her rules from the
Multi-Fandom Het Mpreg Ficathon
. I've never started a ficathon before, so I needed some guidance.
Happy writing! Ca't wait to read your new Spander creations!
Current Mood:

optimistic